2017 Solar Eclipse - Georgia

So what's the big deal?
The sky may go black on August 21st, but there's nothing dark about that day. Quite the opposite, actually – a brilliant and radiant sight to behold will occur! Many people in North America will be able to see an exciting and rare occurrence on August 21st, a total solar eclipse. As Georgians we are especially lucky – some parts of the state lie directly in the path of totality. This means that the moon will almost completely cover the sun for a period of time – over two minutes in some places – and create total darkness. The last time the contiguous United States saw a total eclipse was in 1979!
When and where will this happen?!
The moon will pass in front of the sun just after 2:00 pm on August 21st, and in Georgia, there are 8 places where you will be in almost complete darkness. Even if you are not in the path of totality, you will still be able to see a partial solar eclipse. Make sure to wear approved eye protection when viewing the eclipse – the only exception is during totality when only the faint light from the corona is visible. Scientists have confirmed that it is not dangerous to view totality with the naked eye (https://eclipse2017.nasa.gov/faq). Viewing the eclipse during the period of time leading up to totality and the period of time after totality without special eyewear can actually damage your retina, so please view responsibly!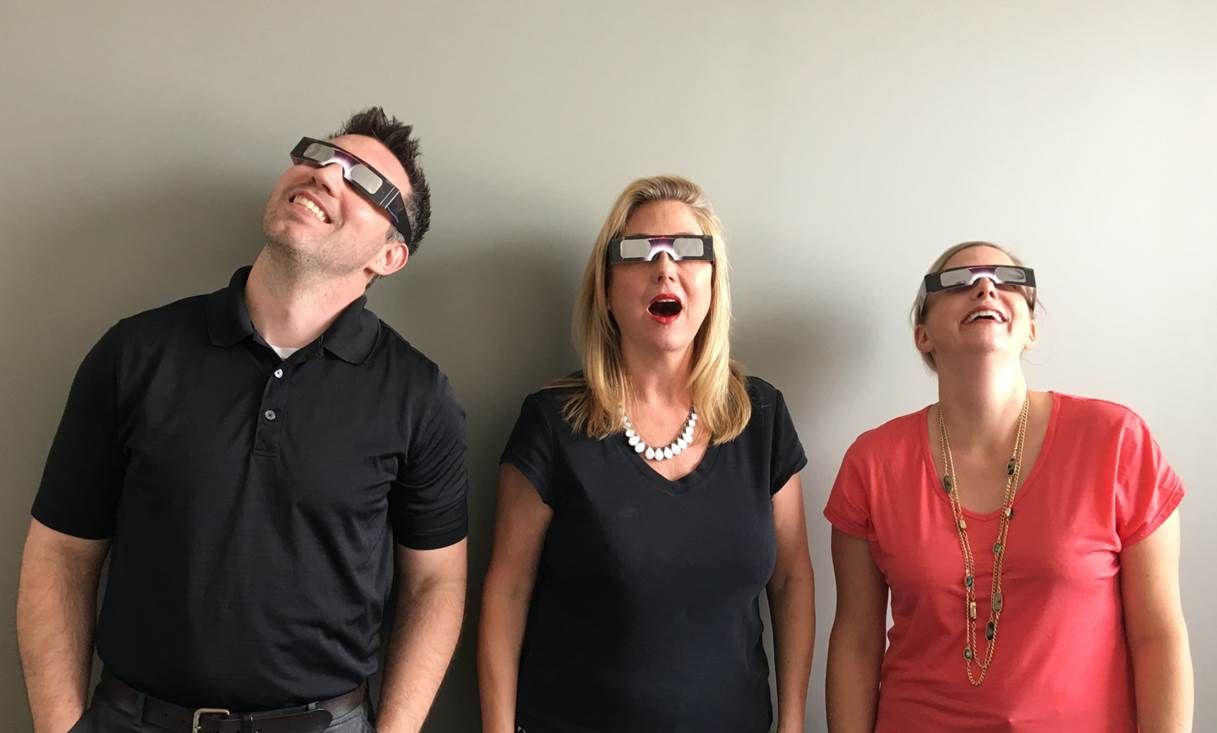 What happens during a Solar Eclipse?
Here are a few things to be on the lookout for during this awe-inspiring event. In the minutes before and after totality, you might be able to see shadow bands, a phenomenon that scientists aren't even sure how to explain. Some say they look like ripples on the bottom of a swimming pool. The best way to see shadow bands is on a plain white surface, like a bed sheet or a large sheet of paper, so go to your viewing spot prepared to catch these shadow bands with your own two eyes! Another interesting sight during a total eclipse is Baily's beads, named for Francis Baily, a prominent English astronomer in the early 1800s. The term Baily's beads refer to the brilliant flashes of light that appear in the time just before and just after totality. These spectacular flashes of light are caused by the sun's light passing through the uneven surface of the moon and resemble a diamond ring up in the sky.
You might be wondering if you will be able to capture the eclipse with a camera or smart phone. The answer is yes! (And if you do, please share them on social media and don't forget to tag us!) Just make sure your eyes are properly protected while you take photos. Want more information? NASA's website (https://eclipse2017.nasa.gov/) has tons of information on the upcoming eclipse including maps of the eclipse's path, history and facts about solar eclipses, and lots of fun activities you can do with your family. We'll see you on August 21st "in the shadow"!
Germany Road – Clayton
The city of Clayton
Pine Mountain
Mountain City
York
Rabun Gap
Sky Valley
Dillard