Celebrate Good Times -- COME ON!
A black limousine. Five radiant ladies. One amazing restaurant. Put them all together and you get an epic celebration! Kelly Marsh & Associates recently surpassed its mid-year goal for 2016, and Kelly surprised all of us by taking us out to celebrate. Here are some of the highlights!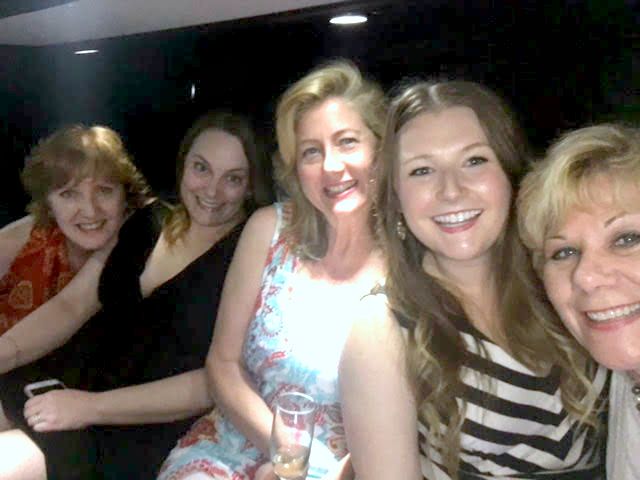 Kelly was tight-lipped about the details of the evening. In fact, the only instructions we were given were "Glam it up!". She gave each of us a time to be ready by so that she could have us picked up. Wait – picked up?! We all live so far away from each other that it would take her hours just in driving time! Plus, she wouldn't be able to have a glass of wine with us. Little did we know….
At 7 pm, I was glammed up and ready to go when all of a sudden my children appear in my room and yell "LIMO!" I walked outside and indeed there was a black limousine with a driver holding the door open for me. This was a treat for me since I had only been in a limo one other time in my life! As I climbed in I saw three beaming faces – Margaret and Patty had been picked up before me, and Kelly was holding out a glass of champagne. From their rosy cheeks I could tell I had some catching up to do.
As we drove along the streets of Atlanta on the way to pick up Sherri, curious onlookers tried to see in the windows to catch a glimpse of the celebrity inside. We certainly felt like celebrities – music playing, disco lights on the ceiling, yummy snacks made by the boss herself, and seemingly endless champagne. The champagne as it turns out was not endless – we had to stop at a liquor store to pick up a few more bottles!
After we picked Sherri up and gave her a glass of bubbly, we took pictures, talked, and laughed – but we tried really hard not to talk about work. For a team of five hardworking, dedicated real estate professionals, this is not an easy task. When we finally slowed down and pulled into a parking lot, I glanced up and saw that we were at one of my favorite Atlanta restaurants, Canoe. As the driver pulled right in front of the restaurant and got out to open our doors, people waiting inside and standing outside watched intently. Real estate celebrities, coming through!
We had the most fabulous waiter, a charming man with an accent who was extremely knowledgeable about the menu and the wine list. Kelly told us to order whatever we wanted, drinks and food, and we certainly did! Patty and Margaret had cocktails, Sherri had red wine, and Kelly and I continued with the bubbly. Cheers to our team's success! We each ordered a different dish, and each one was beautifully presented and delicious. Canoe never disappoints! We ate and talked and laughed – something we do a lot of when we are together as a team – and really enjoyed the luxury and ambience of the restaurants' white tablecloths and sparkling white lights out back.
After sharing a few desserts, we walked outside to Canoe's gorgeous gardens and strolled for a few minutes. Each of us was dropped off one by one, with me holding my shoes. The ride home was definitely more quiet than the ride there – we were full, sleepy, and happy. Mission accomplished!
Another HUGE thank you to our fearless leader Kelly for lavishing love and praise onto us every single day, making us feel wanted and needed, and for treating us like celebrities that night! I wonder what we'll do to celebrate when we surpass our end of the year goal? Hmm…..